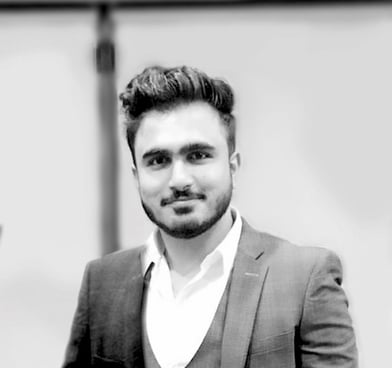 Fascinated by brainstorming and fine-tuning numerous user flows along with understanding and creative perception of user-Centered designs, I decided to become a Product Designer with a goal to deliver beautiful, usable, planet-scale solutions that would add value to the lives of human beings everywhere.




A conscientious and Passionate professional with extensive International experience in UI/UX Designing, Product Designing, Web Development, Social Media Marketing, IT Administration and Graphic Designing.
• UI/PRODUCT DESIGNER at Beautrix, London(NOV '19 - CURRENT)
• Web Developer & Social Media Manager (MAY '19 - AUG '19). at Little Jannah Hair and Beauty Spa, London
• Web Developer, Graphic Designer & IT Admin(OCT '16– MARCH '19) at Capital International Group, Dubai
• UI/ UX Designer at ZaydTech, London
Education & Certification

Degree: Bachelors of Engineering 2011–2015
College: Babaria Institute of Technology (GTU), Vadodara, India.
Subject: Computer Science and Engineering
Final Year Project: S.I.M.I -Smart Intelligent Mobile Interface -Android Virtual Voice Assistant App
CERTIFICATION
• Cleared & Certified for Autodesk Maya (Ver 2009) by IIT-BOMBAY & Microsoft.
• Microsoft Student Partner of the year 2015
• Employability Training Certificate Accredited by NCFE, London



My interests outside work include a broad range of activities including playing football, computer games, travelling and undertaking DIY projects. Recently I made a porch swing for my garden as one of the lockdown projects and enjoy doing other decorative work around the house. Been learning Android Development, I aspire to keep improving my skills in UI Designing by continuing to learn new techniques and languages such as Kotlin and Java coding.

iammustafajd@gmail.com
079 2214 6565